Posted on
By Erin Yielding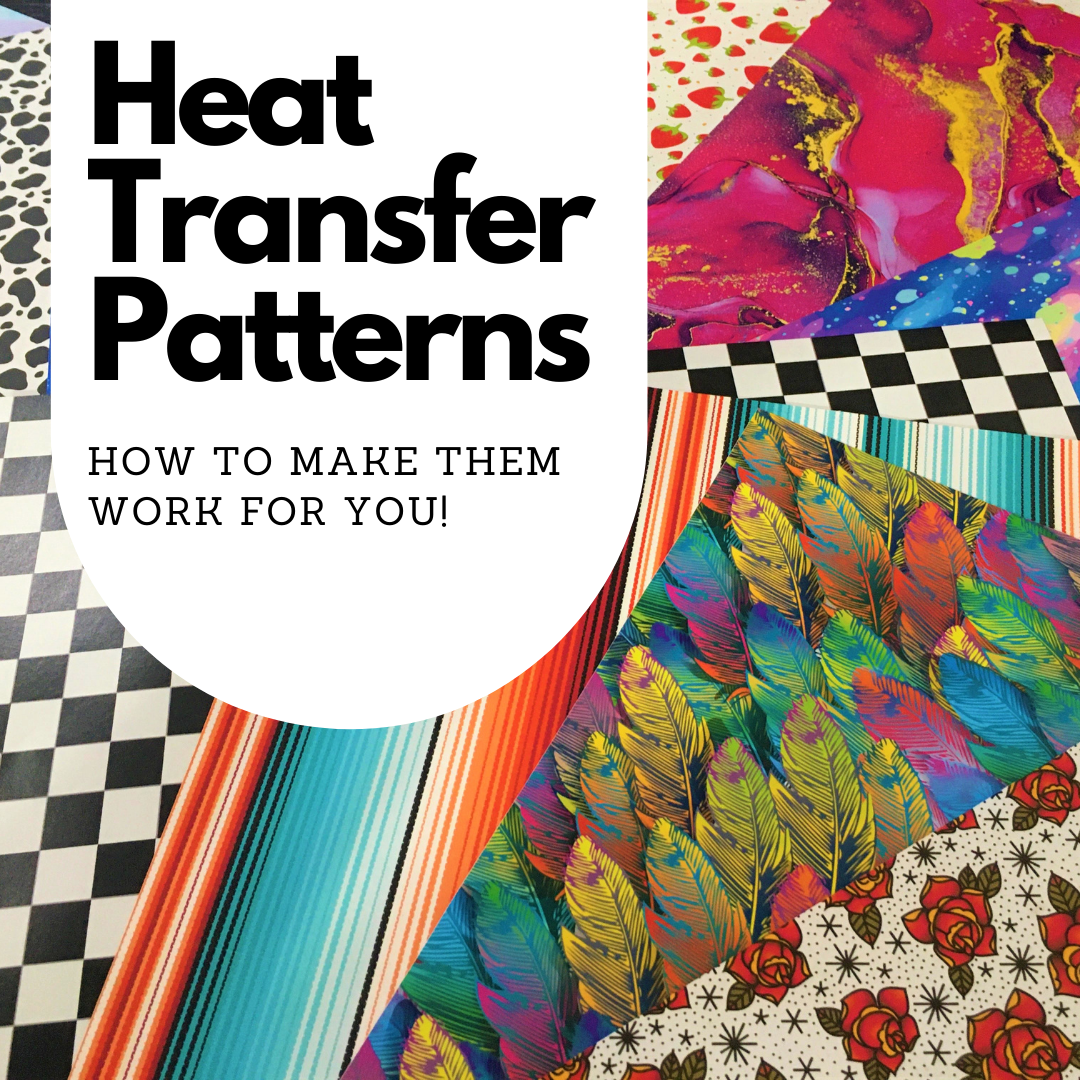 Our first blog post! An easy step-by-step for using our in house patterns.
Let's Get Started: Heat Transfer Patterns
Hey y'all! TVD has been proudly providing our community with all their vinyl needs since 2017, and let me tell you, we've grown quite a bit in those 4 years! From hot product releases, new tools, unique blanks, to classes, and limitless custom orders, we've always tried to keep up with the needs of our community. Now, we're bringing a taste of the Craft House to the digital world! This blog is going to be dedicated to giving y'all tips, tricks, and inspiration for all your vinyl projects! We'll take opportunities to show off new products and give you the run down on how to make it work for you. You'll even get a sneak peak into the mysterious back room of TVD and what kind of wizardry we keep up our sleeves!


                                        


Now that we have introductions out of the way, let's talk vinyl. Here at TVD we have an absolute blessing of a graphic designer (Hi Shy!) who prints all of our custom orders, as well as every single transfer and patterned vinyl sheet that we carry! To say she works hard would be an understatement. All of our patterns are printed in situ (on site) and are cut by hand. We use a large scale latex printer and cutter to make the magic happen. However, since everything is made in store, some things are a little bit different than what you would get off the shelf at a big name retail store (not naming names, but for example, it might sound like Bichael's, or Toe Ann Jabrics). Our heat transfer patterns specifically, don't have a carrier sheet on top due to the design being printed directly onto the vinyl. This means these sheets have a bit of a different process than your typical name-brand vinyl. 

 
But fear not! It's deceivingly simple.
So, today we're going to be following along and taking a deeper look into a how-to video made by our graphic designer that was uploaded onto our TikTok page @texasvinyldispensary.
Step 1: Machine Settings and Prep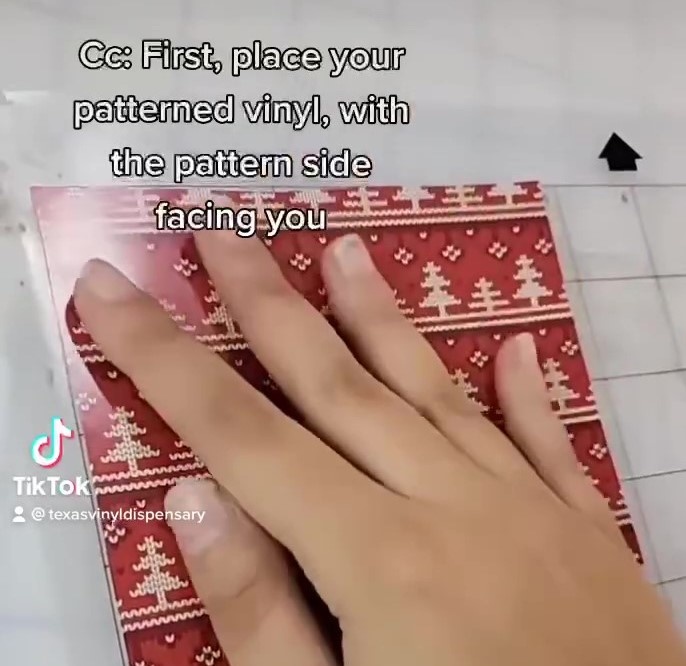 When it comes to heat transfer, I'm sure you're used to hearing "Shiny side down!", but our patterns are a little on the wild side. There's no carrier sheet, so you'll simply put your pattern side up! The back of our heat transfer patterns is plain white, so It'll be super easy to figure out when it comes time to cut.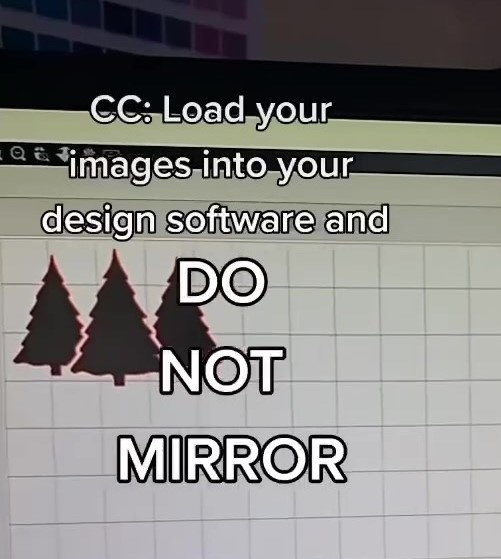 Next step is software. Once you have your machine loaded properly, go ahead and pop your design into your design software and adjust the sizing for your project. It's very important to keep in mind that you will not mirror with your heat transfer patterns. Mirroring these will flip your image backwards, and especially if your design has any words in it, it will make them unreadable.
If you're starting to notice a trend with your set up for these patterns, good eye! Our heat transfer patterns work very similarly to adhesive vinyl! So, keep that in mind when it comes time to use the mysterious clear sheet of mask you received with your pattern!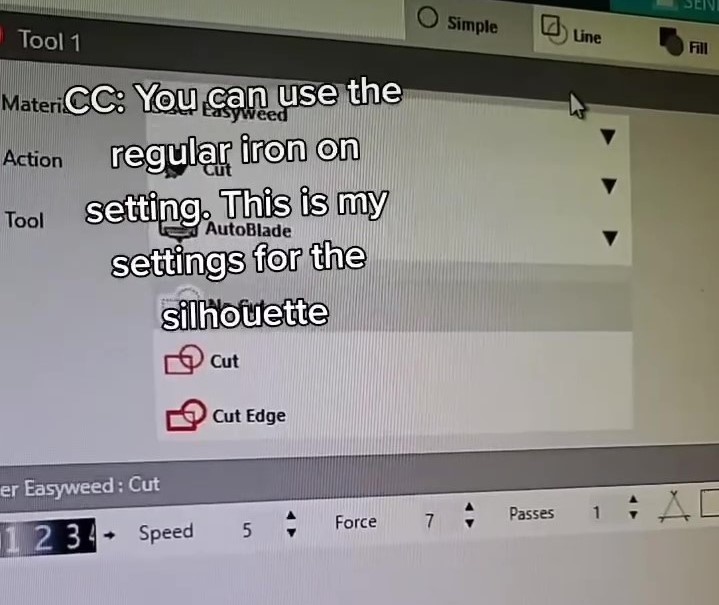 Here at TVD, we don't play favorites. We do however, use the Silhouette almost exclusively. In this tutorial, our graphic designer is using a Cameo 3. Her recommended settings are Heat Transfer Smooth, with a speed of 5 and a force of 7.
For our lovely Cricut users, the setting Vinyl+ is going to be your best friend.
Once you have everything all set up, you're ready to cut! Go ahead and send your design to your machine, and come right back once it's done!
Step 2: Weeding and Applying Mask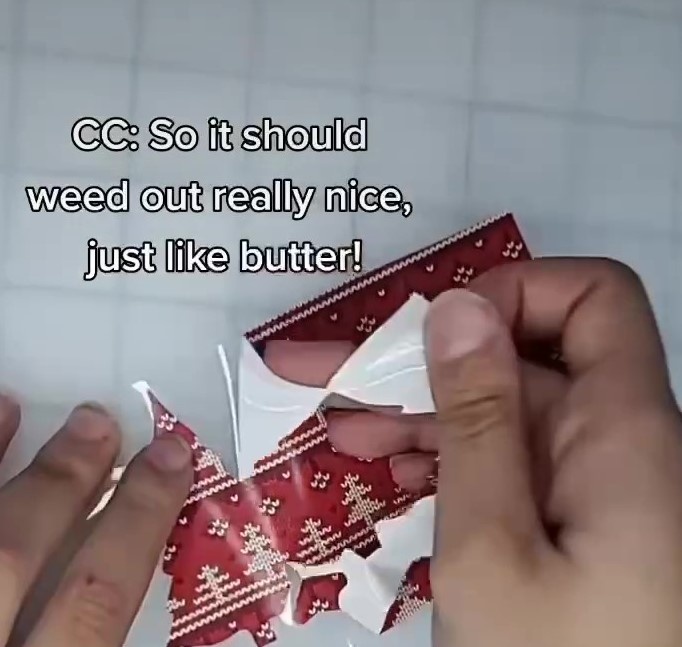 Now, the fun part. Weed out your design, leaving just what you need. Our patterned HTV is super easy to weed, and super satisfying!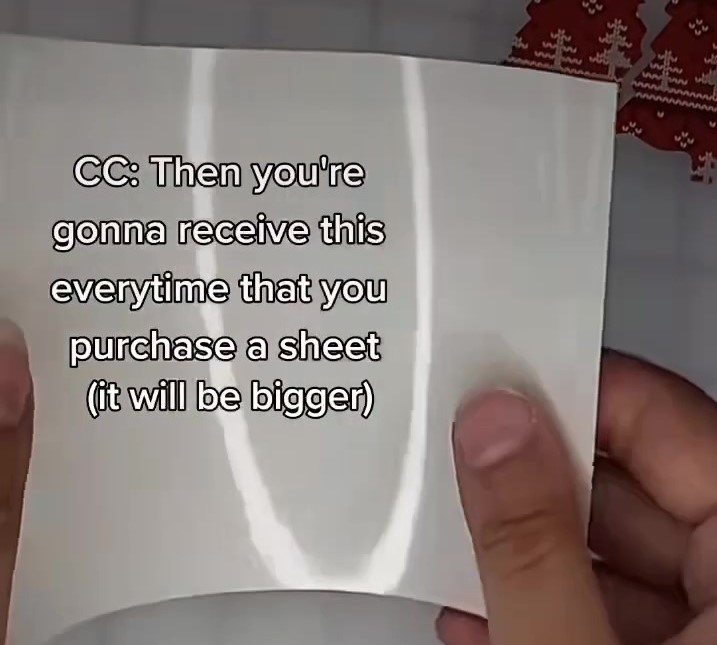 I'm sure you're wondering, what is this random sheet of clear in my order? This clear sheet you receive with your pattern is going to be your mask. The mask is essentially your carrier sheet. It works like a heat-resistant transfer tape. Don't let this little sheet intimidate you! You're in control.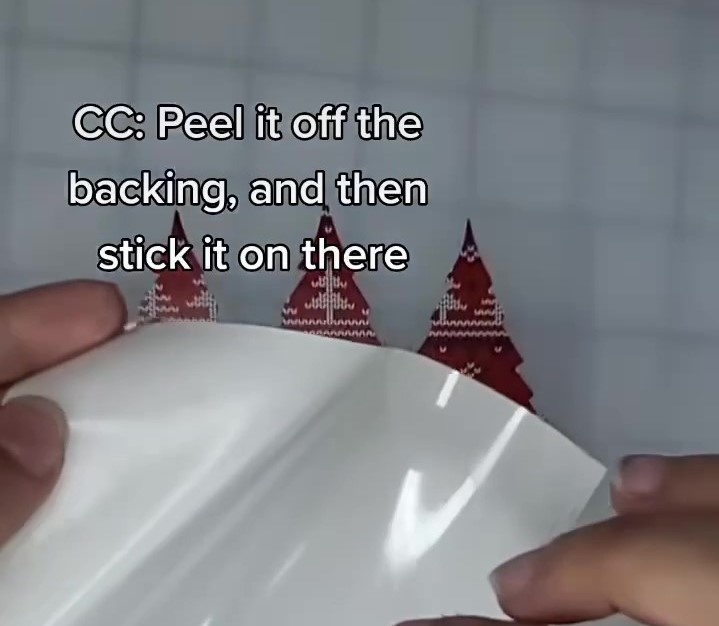 Take your mask and peel it from the backing, then lay the sticky side gently on top of your design.
Our graphic designer's trick (Don't tell her I told you) is to start from the middle. Hold either side of your freshly peeled mask and let the center sink down before the edges, in an almost U-Shape. Allow the center of your mask to stick to your design first, and slowly lay the sides down. This will limit the amount of bubbles likely to get trapped in your mask, and makes it easy to place your mask evenly onto your design.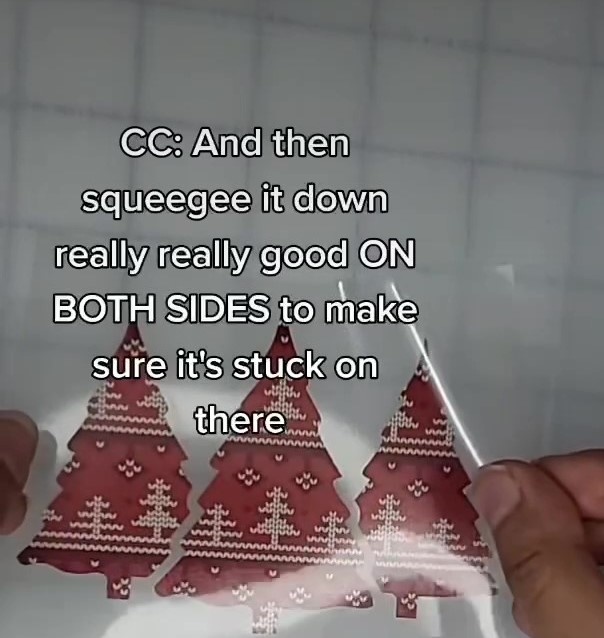 Now that your mask is on, it's time to cement it's fate. Take your squeegee or library card and push out any bubbles, and make sure that mask sheet is firmly on your design! Make sure to squeegee the front and back for maximum stickage.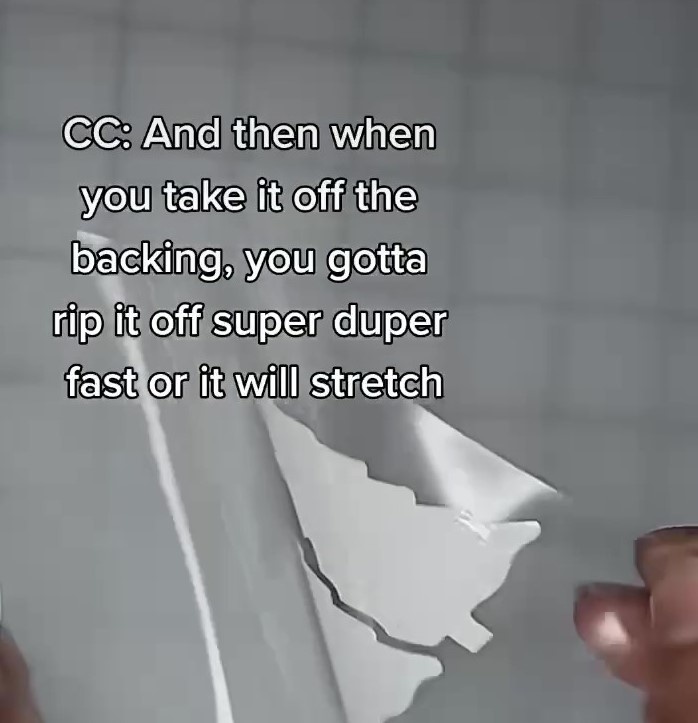 Now it's time to lift your design. Find an edge on the side of the mask that you can hold firmly. When you take your mask off the backing, you want to rip it fast! Pulling it off slowly risks stretching or distorting the vinyl. So rip that mask off like a bandage! 
*A note, it's going to make a loud noise, hence why we call it "ripping". That loud noise is a good sign! As surprising as it may be at first, it means you're doing it right!
Step 3: Press That Bad Boy!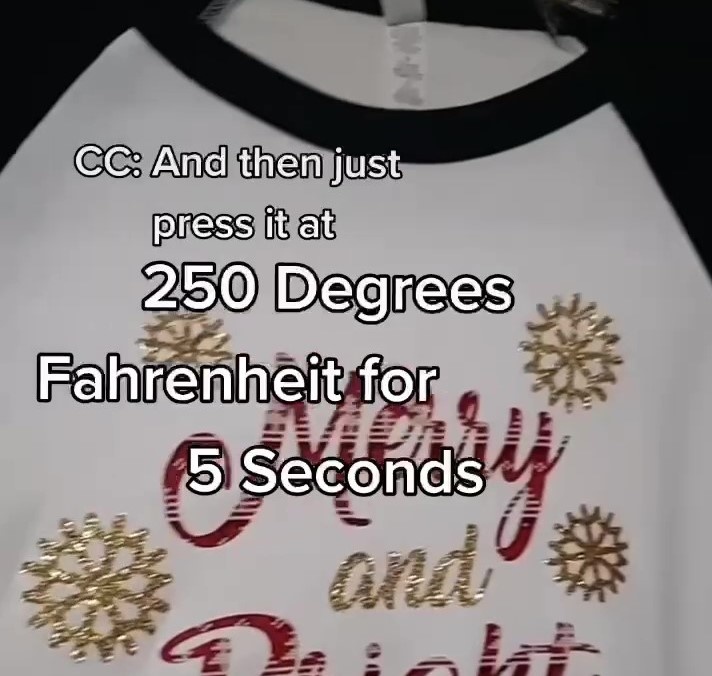 Now that your design has been peeled, simply place the sticky side of the mask with your design onto your blank (shirts, bags, lanyards, the possibilities are endless!) and press with medium pressure for 5 seconds at 250ºF. Peel off your clear mask sheet while still hot!
There you go! Not as bad as you thought it would be, right? I often tell our guests that you work with these patterns just like you would with adhesive vinyl, and hopefully now you can see why!
Now, if you need a little inspiration for how to use these patterns, let me share with you some of our personal projects we've made here at the store to show off just how cute these patterns can be!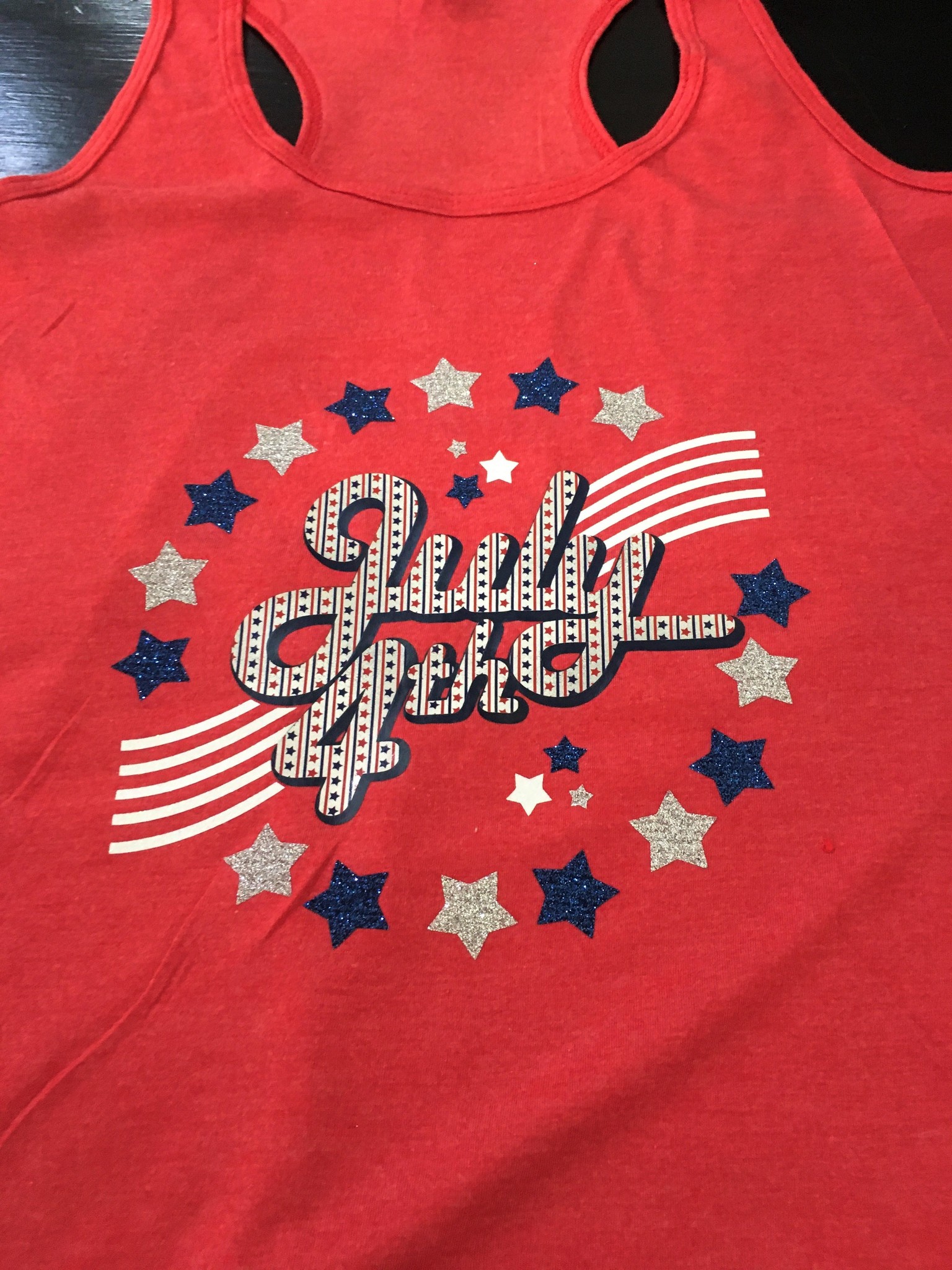 This stunning 4th of July tank uses our "Patriotic" vinyl in the style "Little Stars and Stripes". As you can see, our patterns are layerable! This pattern is layered on top of the Easyweed Navy, and this project also used the Siser Glitter Rainbow White, Silver, and Sapphire!
**Authors note, this design wasn't layered on top of the Rainbow White glitter, it was carefully placed around the edges of it. If you want to layer up on glitter, check out the new Siser Sparkle!**
Gosh, lovely design. This pattern is the "Red Buffalo 1/4"", and this design also uses the Siser Glitter Silver, and the Easyweed Matte Black. This tote is cute, simple, and eye-catching. I might have to make one for myself.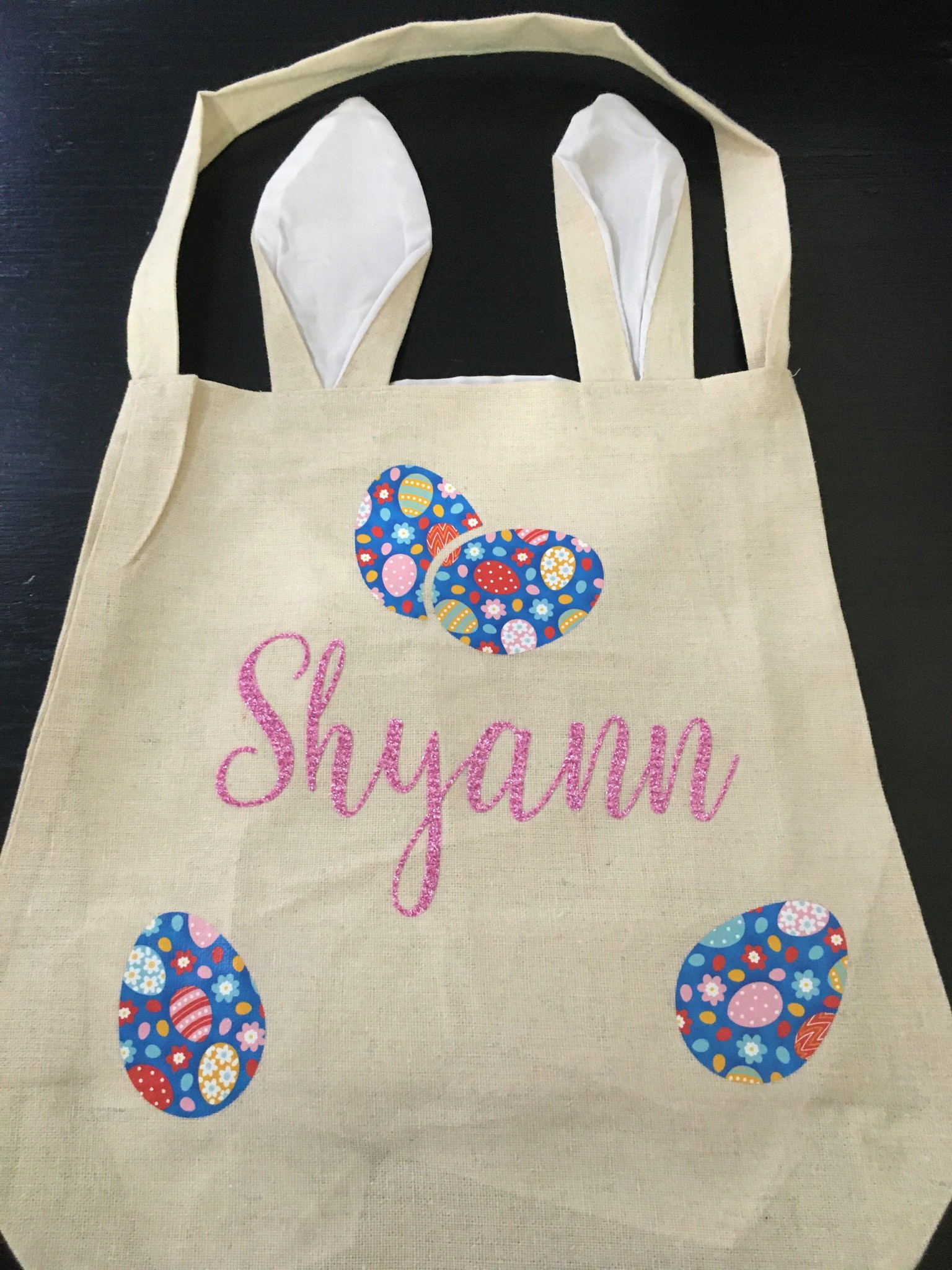 Now this cute little bunny bag has been customized just for our graphic designer! As you can tell, we love any chance to use our seasonal patterns! This pattern is simply called "Easter Egg Blue", and her name was done in Siser Glitter Flamingo Pink!
Worried they won't look perfect for your project? I once again implore you not to worry! We have hundreds of patterns to choose from, and all of them can be customized for color, size, or even hit up our Custom Orders page and make your very own pattern!
For just a smidge more inspiration, we've amassed a small collection of Staff Picks for you!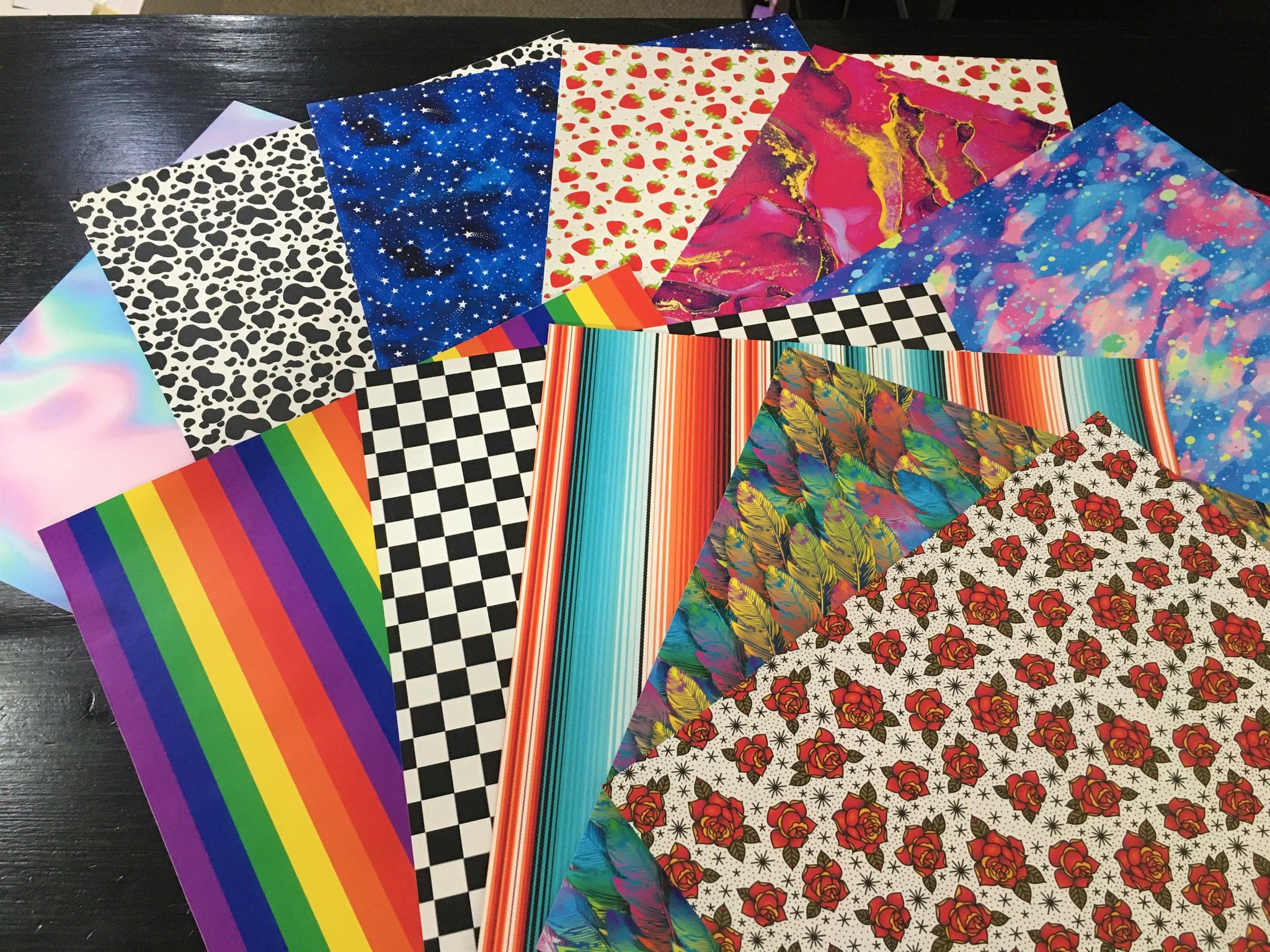 On the top, from left to right, we have Hologram, Cow Print, Starry Night, Sweet Strawberries, Marble with Gold in 'Pink', and Pastel Paint.
On the bottom, from left to right, we have Rainbow, Checkered in 'Black', Serape Jr., Rainbow Feathers, and Traditional Tattoo in 'Red Roses'.
If you use any of our Staff Picks, take a picture of your project and post it to either Facebook or Instagram and tag us! (@TexasVinylDispensary) You might just end up on our website or social media!